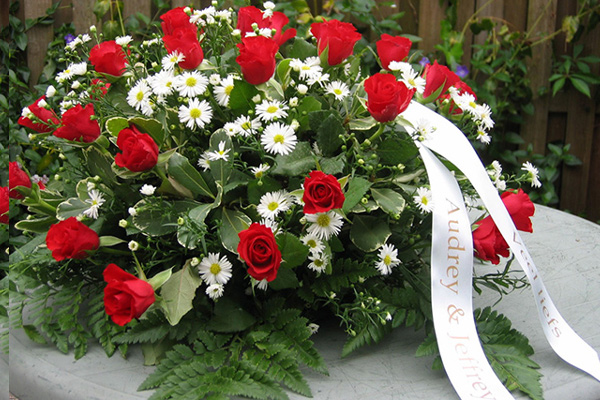 Mourning Ribbon
Mourning Ribbon
To a funeral bouquet are often 1 or 2 mourning ribbons attached. One Ribbon is meant to convey a message to the deceased. On the other one, those from whom the mourning Ribbon bouquet came from.
---
Order Advice Mourning ribbon
At a large mourning bouquet fits a mourning Ribbon of 100mm wide, at a medium sized mourning bouquet a mourning Ribbon of 70mm and at a small mourning bouquet a mourning Ribbon of 45mm.
If you choose a Ribbon of 70mm or 100mm it is best to use 1 meter per piece. If you choose a narrower mourning Ribbon you can (depending on the length of the text you want) cut 2 pieces out of 1 meter (each piece is 50cm). In the latter case we print 1 text on the first half a meter and the 2nd text on the 2nd half a meter.
Unless otherwise agreed, we print your text 1x on the ordered length. But it is best to always tell u via the 'comments' field, how you want us to print your Ribbon. For example, if you need 2 metres you can write in the 'comments' field, for example 'rest in peace' on the 1st meter and 'the children' on the 2nd meter.
Antennaribbons
Score
8.4
/
10
out of
1420
customerreviews
---
Rouwlint Teksten
Hieronder - ter inspiratie - een aantal standaard rouwteksten. U hoeft zich niet druk te maken over het aantal karakters op het rouwlint. We kunnen immers altijd de tekst wat kleiner drukken of de namen over meerdere regels verdelen. Dit kost niets extra.
P.S. Bij een crematie is het misschien af te raden om de tekst 'Rust zacht' te gebruiken omdat dit wellicht verkeerd opgevat zou kunnen worden.
Bedankt lieve...
Bedankt voor ... gelukkige jaren
Bedankt voor alles
Bedankt voor wie je was
Bedankt voor de fijne tijd samen
Dag lieve...
Dank voor alle liefde
De herinnering blijft
Een laatste groet
Eindelijk rust
Goede reis
Hoe zal de tijd ooit de wonden helen
Ik zal je missen
Ik zal je nooit vergeten
In onze harten leef je voort
Je blijft in onze herinnering
Je zult altijd in onze herinnering blijven voortleven
Je was zo lief voor ons
Jou te moeten missen, die onmisbaar is
Met liefde gegeven
Met grote dankbaarheid
Met oprechte deelneming
Onuitwisbaar is de herinnering aan jou
Rust zacht
Rust in vrede
Tot het einde gestreden
Tot weerziens
Uw nagedachtenis zullen wij in ere houden
Vaarwel
Vechten hoeft niet meer, rust nu maar uit
Veel liefs
Voor altijd in mijn/ons hart
Voorgoed uit ons midden maar niet uit ons hart
We houden van je
We zullen je missen
Woorden schieten tekort
Why order mourning Ribbon at Globos?
44 % cheaper than at the florist
no maximum number of characters
choice of 53 colors ribbon and 14 colors print
any desired font and images
ready within 5 minutes, so ready while you wait

Mourning Ribbon

Score

8.4

/

10

out of

1420

customerreviews
Deliverytime Mourning ribbon
We know that mourning Ribbon should be directly printed and sent, however after sending, we depend on the postal service from PostNL. The only thing we can do is write the text 'mourning Ribbon' on the envelope. We can guarantee that if you order and pay before 4 pm, that the mourning Ribbon is sent the same day. Are you just a little too late with order/pay (we fully understand that), then please contact us directly after your order so we can still print your ribbon even if it's after 4pm.
Rouwlint aan het rouwboeket bevestigen.
We krijgen regelmatig de vraag hoe het rouwlint te bevestigen aan het rouwboeket. Daar zijn verschillende manieren voor. Zo laat het rouwlint zich prima knopen om een krans, een gebonden rouwboeket of een enkele bloem. Maar vaak zijn rouwboeketten ook gestoken in een stuk oase en dan gaat u als volgt te werk
Plooi met de vingers het begin van het rouwlint bij elkaar (wij laten altijd genoeg vrije ruimte voor u over tijdens het drukken).
Wikkel een stevig ijzerdraad een paar keer om de plooi.
Dit ijzerdraad steekt u vervolgens in het stuk oase in het rouwboeket.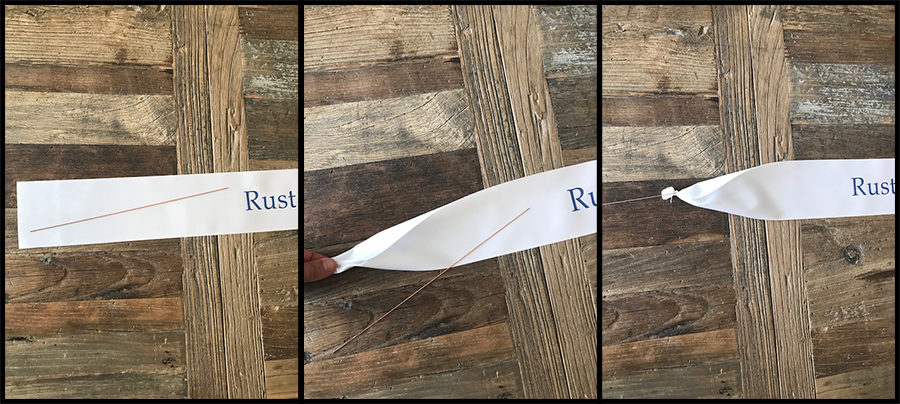 Ballonnen bij een uitvaart
Afscheid nemen kan maar 1 keer, dus wilt u dat op een gepaste manier doen. Het oplaten van ballonnen kan letterlijk het loslaten van uw dierbare symboliseren. Of misschien wilt u er een laatste groet op schrijven en ziet u de ballon als een berichtje naar boven.
Globos bezorgt heliumballonnen kant en klaar gevuld met helium en voorzien van een lintje 24 uur per dag, 7 dagen door heel Nederland bij u thuis of op locatie.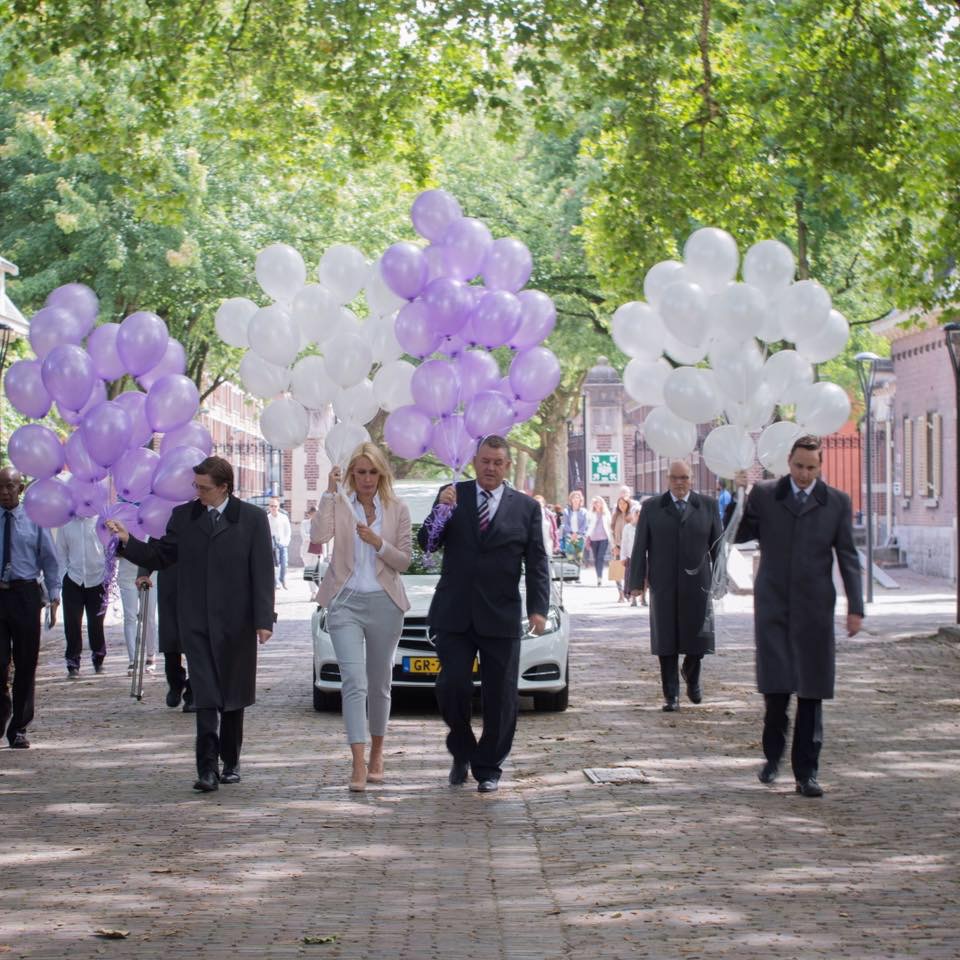 Of wij kunnen de kist voorzien van een ballonnenhart of plaatsen er reuzeballonnen of trossen ballonnen naast. De mogelijkheden zijn eindeloos.
Verkopen jullie ook rouwboeketten of andere rouwartikelen?
Wij verkopen alleen (rouw)lint en (uitvaart)ballonnen maar als u op 1 van onderstaande rouwartikelen klikt, dan komt u meteen bij een van onze partners terecht alwaar u deze rouwartikelen kunt bestellen.